Tricor Dormers has been named a finalist in the Australian Accounting Awards for Mid-size Firm of the Year (20 or more employees) category.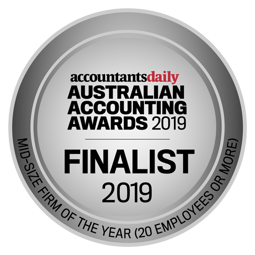 The Australian Accounting Awards, in partnership with Intuit QuickBooks Australia, is the only national independent awards program for the accounting industry. Recognising excellence across a true cross-section of the accounting industry, the awards celebrate the contributions of both individuals and firms who are leading the way.
The finalist list, which was announced on Wednesday, 17 April, features over 270 accounting professionals and firms across 32 categories.
Winners of each category will automatically be shortlisted for the coveted Accountants Daily Excellence Award.
"To a group of people who prioritise their clients and professionalism above all else, sincere congratulations from myself and the team at Accountants Daily," said head of editorial at Momentum Media Katarina Taurian.
"It's a privilege to connect with all of you every day via the Accountants Daily platform, and I look forward to the pleasure of meeting you at the awards evening in Sydney.
"As well as recognising exemplary skill and innovation, this year's awards program celebrates the impact of accountants on the health, wellbeing and lifestyle of their clients and employees.
"The material impact of an accountant in the lives of their clients should be sung from the rooftops, and Accountants Daily is proud to do that for the accounting profession."
Commenting on being shortlisted, Tony Dormer said: "Tricor's recognition for its excellent contribution to the accounting industry reinforces the strength of the brand in connecting with the community and engaging with its customers."
Tony Dormer, Managing Director at Tricor Dormers, said that he was humbled to be recognised and proud to be a part of such an exclusive network.
The winners will be announced at a black-tie gala awards ceremony on 24 May at The Star Sydney.