Tricor Group (Tricor), Asia's leading business expansion specialist, has formed a strategic collaboration with BOC International (BOCI) for the provision of Employee Share Ownership Plan (ESOP) solutions across China's Greater Bay Area and Yangtze River Delta Economic Region.
Increasingly, ESOP solutions have been leveraged by listed companies as a tool for motivating and retaining talent beyond the scope of traditional compensation packages. Tricor is an expert in providing trustee and trust administrative services for various ESOP solutions. BOCI has 15 years of leadership experience in the ESOP industry, plus an efficient ESOP online platform for data management, stock trading and reporting.
With this collaboration, Tricor and BOCI jointly provide a one-stop integrated solution that enables clients to easily manage their employee stock incentive plans. This includes setting up a trust structure, appointing a trustee for maintaining share pools, overseeing all procedures, as well as monitoring ESOP solutions, providing both employers and employees a seamless platform to manage their plans and entitlements.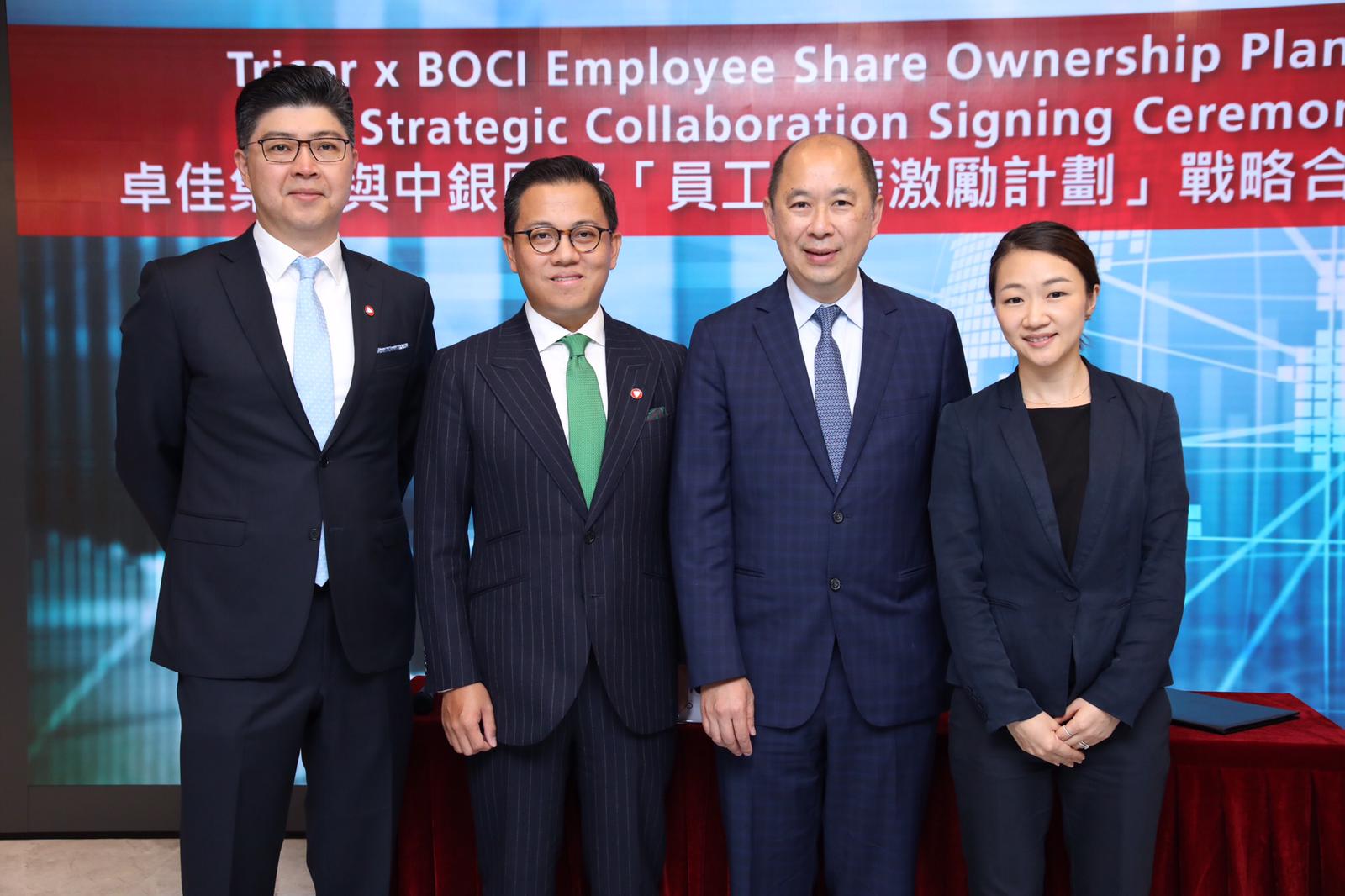 Left to Right: Lennard Yong, Group CEO of Tricor; Joe Wan, CEO of Tricor Hong Kong; Oliver Ng, Managing Director of BOCI Securities; Alix Chan, Director of BOCI Securities
Lennard Yong, Group CEO of Tricor, said: "We're committed to constantly improving our client experience, and our collaboration with BOCI does exactly that. By merging BOCI's powerful share-trading platform with our trustee expertise, our clients and their staff will enjoy a seamless ESOP experience that enables continued business growth. I'm confident this collaboration will be a success, and will mark a new milestone in our ongoing efforts to build our presence in Mainland China."
The new offering will be available for Tricor's clients in Hong Kong SAR and Mainland China. With the Guangdong-Hong Kong SAR-Macao SAR Greater Bay Area ("GBA") gaining momentum, this collaboration comes at a good time for companies seeking to build their presence in the GBA and needing to attract talent through stock incentives.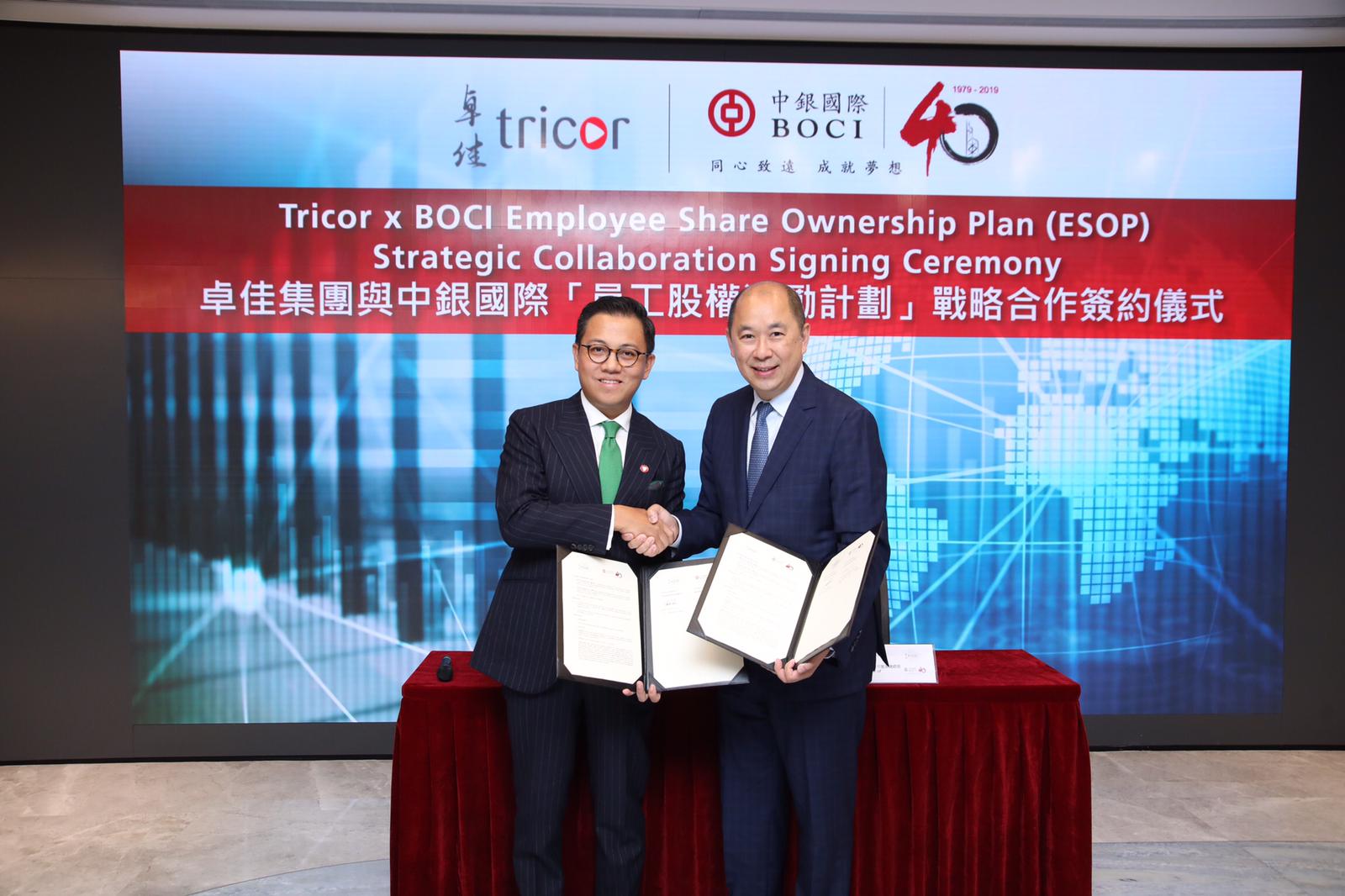 Left to Right: Joe Wan, CEO of Tricor Hong Kong; Oliver Ng, Managing Director of BOCI Securities
Joe Wan, CEO of Tricor Hong Kong, said: "The region is buzzing as companies launch plans to expand in the GBA. Our collaboration with BOCI will certainly help our clients expand their operations in this fast-growing market by allowing them to better manage their ESOP solutions. It's always a win-win when two market leaders join forces for the greater good of their clients. I look forward to working with BOCI as we explore new ways to enhance our combined service offering in the strategic Greater Bay Area and elsewhere in China."
Wang Zhongze, Chief Financial Officer of BOCI comments "At BOCI, we are endeavoured to provide the best services and the most innovative solutions to meet our clients' requirements. Our collaboration with Tricor will leverage both parties' strengths to achieve a win-win-win for our clients, Tricor and BOCI. Our alliance with Tricor is a perfect demonstration of our willingness to collaborate with other companies to ensure that we continue to provide our clients with the best-in-class products and services."
Oliver Ng, ManagingDirector of BOCI Securities, explained, "We have been the industry leader in providing ESOP solutions for the past 15 years and our platform in managing corporate ESOP solutions is well recognized as one of the best in the industry. By joining hands with Tricor, also a leader in its industry, we are bringing great value to our clients. Indeed, our users will benefit from Tricor's rich experience in maintaining ESOP trustee solutions, and Tricor's clients will benefit by gaining access to our experience in ESOP business and our highly developed ESOP-trading platform. I'm confident our synergies will be on display once we're up and running."
For more information, please contact:
TRICOR GROUP
Sunshine Farzan
Tricor Services Limited
Group Head of Marketing & Communications
Tel: +852 2980 1261
Email: Sunshine.Farzan@hk.tricorglobal.com
BOC International Holdings Limited
Olivia Hu
Associate Director
Tel: +852 3988 6808
Email: Olivia.Hu@bocigoup.com
---
Full Press Release:
---