Read the latest insights from Tricor's executives.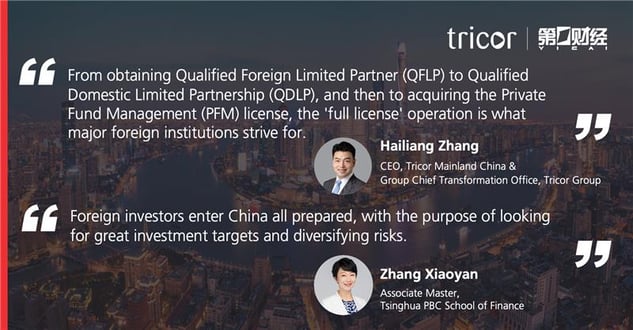 March 25, 2022 - Yicai
Hailiang Zhang, CEO of Tricor Mainland China, Zhang Xiaoyan, Associate Master of Tsinghua PBC School of Finance (Tsinghua PBCSF) and Xin Yuan, Chair Professor of Tsinghua University, shared their insights with China Business News on foreign investors' long-term allocation to China, investment channels and industry preferences.
Zhang Xiaoyan said, "Foreign investors enter China all prepared, with the purpose of looking for great investment targets and diversifying risks. The continuous inflow of foreign capital into China in the long term could be attributed to three main reasons. First, 'big plate, big space'. From the perspective of demand, the growing wealth of Chinese residents unlocks huge growth potential to China's wealth management industry. Second, China's stock market has a large capacity, considerable yield, and low correlation with other countries' assets. These are important factors to consider when diversifying risks and allocating assets. Third, regulatory policies promote the continued opening of China's capital market to the outside world."
Hailiang Zhang said, "From obtaining Qualified Foreign Limited Partner (QFLP) to Qualified Domestic Limited Partnership (QDLP), and then to acquiring the Private Fund Management (PFM) license, the 'full license' operation is what major foreign institutions strive for."
Download Tricor x Tsinghua PBCSF's China Hedge Fund Report 2022: https://www.tricorglobal.com/china-hedge-fund-report-2022...
Above: Excerpt from the media coverage. Please refer to this link to read the article in full from Yicai.