Our 'Expand your Business into Asia Pacific' networking event received a wonderful turnout in San Francisco on Tuesday, June 4 with over 50 guests in attendance.
The first panel discussion identified the challenges and hurdles of Asia expansion, along with sharing the best approaches to avoid common pitfalls. ACG's Alan B. Chinn, Osborne Clarke's William Devenish and Global Mobility Tax LLP's Brent Bergan provided their expertise on corporate tax structuring, employment considerations and other legal considerations.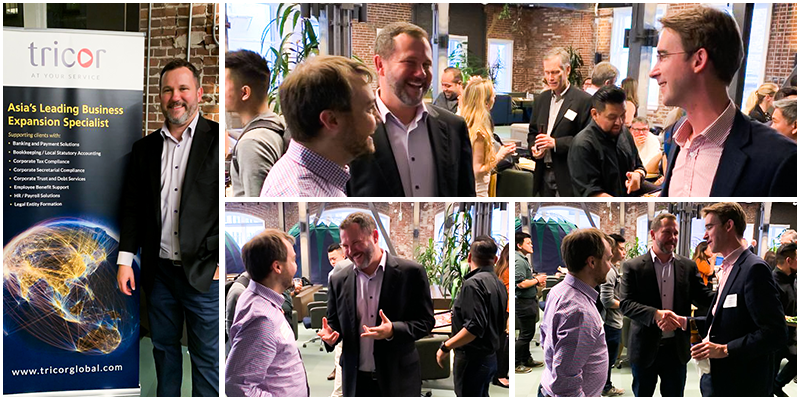 Choon Hong, Loh from the Malaysian Investment Development Authority (MIDA) and Heng Jie, Tan from the Singapore Economic Development Board provided an overview of their respective organizations, as well as an introduction to the state of the Southeast Asian market and its opportunities in the second panel discussion.

Followed by a networking session, industry experts shared their insights on how to tap into the considerable growth potential of the Asia Pacific region.

We would like to take this opportunity to express our thanks to our guest speakers, and to our own Andrew Lindquist, Managing Director - Tricor United States, for presenting the opening remarks.

Is your company looking to expand in Asia Pacific? A trusted partner like Tricor with in-depth experience and local expertise could be the key to get ahead.

About Tricor Group
Tricor Group (Tricor) is the leading business expansion specialist in Asia, with global knowledge and local expertise in business, corporate, investor, human resources & payroll, and corporate trust & debt services. Tricor provides the building blocks for, and catalyzes every stage of your business growth, from incorporation to IPO.
Strategically headquartered in Hong Kong SAR, we operate out of 21 countries / territories and across a network of 47 offices. Tricor serves 50,000 clients, including 2,000 companies publicly listed in Asia and over 40% of the Fortune Global 500 companies. With 2,600 employees, of which 630 are certified professionals, we deliver critical functions to help ambitious companies accelerate their growth in Asia and beyond.
Tricor's advantage comes from deep industry experience, committed staff, technology-driven processes, standardised methodologies, constant attention to changes in laws and regulations and wide industry contacts. Tricor is uniquely positioned to unlock the potential of your business, and help you stay one step ahead of today's diverse and fast evolving regulatory environment.
About Tricor Group US:
Tricor Global's US office helps clients accelerate international expansion into key markets across Asia and beyond, providing solutions for incorporation, international human resources, payroll, accounting, finance, tax and compliance advice and support.