Tricor Group Expands into Debt Services with Acquisition of Asia Market Leader Madison Pacific
Asia's leading business services provider enhances capabilities with new debt trustee services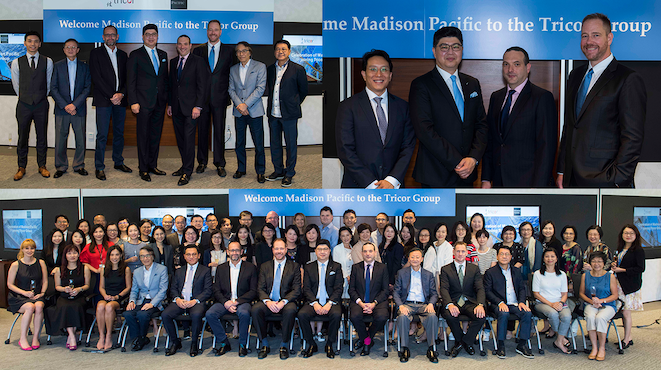 Tricor Group ("Tricor"), Asia's leading provider of business, corporate and investor services, is pleased to announce today its agreement to acquire Madison Pacific Group, the leading independent provider of corporate trust and agency services throughout Asia ("Madison Pacific").
Combined with the current business of Tricor Investor Services, Madison Pacific, which specialises in providing corporate trust, loan agency and security trustee services, will give Tricor a complete platform to support corporate clients in their capital needs in the debt and equity markets, especially in Hong Kong, one of the world's largest capital markets.
The acquisition adds Madison Pacific's strong franchise and deep expertise in corporate debt and investment to the Tricor platform and allows the combined group to offer sophisticated solutions to both firms' clients. Madison Pacific was founded in 2010 in Hong Kong to address the need for an independent and experienced expert provider of trusted third-party trustee and agency services in sophisticated cross-border debt focused transactions.
Madison Pacific operates across Asia and EMEA from offices in Hong Kong, Singapore and London. Since its founding Madison Pacific has acted on over 700 transactions with a combined value in excess of US$50 Billion.
Lennard Yong, Group CEO of Tricor, said: "Madison Pacific adds an important capability to Tricor's customer solutions. We are now the number one provider of share registrar solutions in Hong Kong, trusted by over 1,200 companies on the Hong Kong Stock Exchange. As our clients' capital requirements mature to encapsulate debt issuance, Tricor can now provide solutions as a corporate trust provider, enabling our customers to more easily access capital in the debt markets. Our enhanced capabilities with Madison Pacific enhances our status as the most desirable partner in business solutions."
Jonathan Hatch and David Naphtali, the Managing Directors of Madison Pacific commented: "We are very pleased to be moving into a new phase of global growth with a strong partner. We thank all of our staff and stakeholders for their valuable contributions, especially Lennard for his wise stewardship of this transaction on behalf of Tricor. Tricor's deep understanding of corporate trust as a professional service, rather than an administrative service, is exactly what has driven our own success to date, and we are confident that our broadened platform we will deliver superior value to our clients."
Tricor is also pleased to recognize Madison Pacific's Managing Directors, Jonathan Hatch and David Naphtali, whose leadership and experience enabled Madison Pacific's success in its specialist area. Lennard Yong remarked, "I am very excited and look forward to working with Jonathan and David as well as the wider team at Madison Pacific. Jonathan and David bring exceptional talent and expertise together with a fast growing business that strongly complements our existing brand. From our Hong Kong headquarters, Tricor is already recognised as a leading Asian-based multinational corporate services firm. As Asia continues to drive the world's economic growth, we will leverage our geographic advantage to help our clients accelerate growth in this region. Together with Madison Pacific, we will deliver truly invaluable solutions for our clients."