As the flagship for Hong Kong's digital technology industry, Cyberport has supported the development of start-up and technology companies, fostering talent cultivation, and facilitating digital transformation. To find out more about the organization's work and how it promotes tomorrow's businesses, we talk to its Chief Corporate Development Officer, Dr Stella Kwan.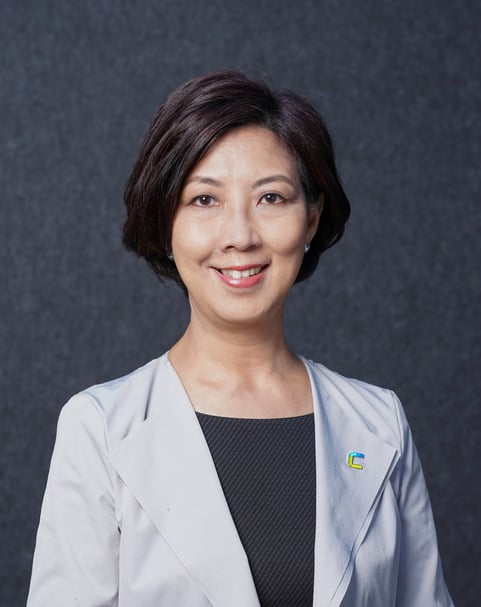 Dr Stella Kwan - Chief Corporate Development Officer
"One of our goals is to strengthen Cyberport's vibrant yet diversified ecosystem, which is underpinned by different innovation and technology ("I&T") players. We achieve this by admitting suitable companies as incubatees, co-working space users, strategic partners, and tenants. After years of development, we now have over 1,650 digital community members at Cyberport," explains Stella. "What's more, we aspire to establish Cyberport as Asia-Pacific's leading I&T Hub." She adds that innovation and technology trends have been hugely encouraging in recent years, especially with a surge in entrepreneurship powered by creative and practical ideas that improve people's lives and how companies operate.
Such trends are being supported by broader initiatives, including China's 14th Five-Year Plan, with its strong emphasis on digitalization and the development of the Guangdong-Hong Kong-Macau Greater Bay Area ("GBA"). "Being part of the GBA, Hong Kong is well-positioned to leverage the huge market potential offered by the hinterland and benefit from the growth of emerging technologies. As a result, supporting small businesses and facilitating large companies to be digitally equipped for such valuable market opportunities are some of the most important work that we do," says Stella.
A Desire to Incubate Talent and Become the Strongest Gamechanger
One of the three pillars of Cyberport's strategic focus is talent cultivation. "Having the right mindset and skillsets are crucial for those who want to establish a new business. That's why we organize training programmes, seminars, and workshops for young students, industry practitioners, and company representatives. This training generally takes place onsite at Cyberport, but in the past year, we have made flexible arrangements by introducing virtual educational sessions," explains Stella.
2020 saw the launch of the Cyberport Academy, which hosts virtual classes featuring leading technology consultants and developers who share their views on a wide range of topics from entrepreneurship, technology, and marketing to taxation. "We will consider anything that can help our start-ups and talents grow," notes Stella. Last year, for example, more than 1,200 FinTech practitioners from banks and other financial institutions registered for the Cyberport FinTech Training Programme. Cyberport also runs career fairs and offers internship opportunities that enable graduates to get a taste of what establishing a start-up entails.
"And in recent months, we have rolled out iTalent, which is a platform for our community members to post job openings," reveals Stella. "The site, which is open to the public, will provide a sustainable solution to finding talent for the I&T ecosystem."
A Focus on Technology Clusters with Strong Growth Potential
The second and equally important pillar is Cyberport's commitment to industry development. As Stella describes, "We currently focus on three specific clusters with strong growth tailwinds – these are FinTech, Smart Living, and Digital Entertainment and Esports." Cyberport has a vibrant FinTech community, which embraces almost 400 companies, and accounts for approximately two-thirds of such companies in Hong Kong. She sees great potential for emerging digital solutions to significantly impact both the financial industry and our society in the future. Those on the list include companies in the insurance, asset/wealth management, regulatory, and payment technology sectors.
Turning to smart living, it is a broad category covering aspects such as education, e-commerce, retail, art, health technology, smart buildings, and the Internet of Things ("IoT"). "The objective of smart living is to make Hong Kong a more sustainable, liveable, resilient and competitive city," she says. "Many solutions within this category are close to the daily lives of people."
In terms of digital entertainment and esports, Cyberport has just delivered Hong Kong's newest unicorn: Animoca Brands is a digital entertainment company pioneering in non-fungible tokens (NFT) for video games and has been a community member of Cyberport since its launch. "Digital entertainment and esports require advanced technology, an area where Animoca Brands specializes. Cyberport collaborated with the business to bring the internationally renowned Blockchain Gamer Connects event to Hong Kong, a first for Asia, to explore emerging blockchain and mobile gaming technologies. The company is now worth an estimated US$1 billion," notes Stella.
Business Success with Targeted Network Platforms
The third pillar of Cyberport's strategic focus is integrating the new and traditional economy. "Technology companies, especially start-ups, need business connections, technology partners, professional services, and investment support at every stage of their development. And, most importantly, they need to sell their solutions," she remarks. As a result, the organization has developed a tiered approach to assist businesses with their growth needs. It features four distinct networks that help enterprises connect with the wider world, source funding, lower the entry barriers, and overcome challenges that may impede their progress.
Cyberport Enterprise Network ("CEN")
CEN connects its members with larger corporations. "These companies tell us about their pain points; we examine the issues and, where possible, propose viable solutions from our community," explains Stella. "We usually identify several potential solutions for the corporations to consider, a process we call 'business matching'. Our shortlisted start-ups then present their solutions to these businesses." Business matching provides valuable opportunities for smaller names to "knock on the door" of large enterprises, which otherwise may not be easily accessible and hopefully win new business by offering innovative solutions to larger corporations.
Cyberport Technology Network ("CTN")
CTN focuses on connecting community members with more established technology enterprises. "In our case, this involves some of the world's technology giants, such as Amazon Web Service, IBM, Microsoft, and Google," says Stella. "Under the CTN umbrella, these big corporations work jointly with start-ups to research and develop new solutions, offer access to the latest technologies through training, our service credit programme, and solution mentorship. This also creates partnering opportunities with service integrators, solution providers, and network operators to reach end customers. Ultimately, CTN lowers the entry barriers for new companies."
Cyberport Investors Network ("CIN")
With the CIN platform, private equity funds, venture capitalists, and angel investors are introduced to Cyberport start-ups. "The burn rate here is very high. Early-stage capital helps start-ups sail through the business cycle, from prototype development to product launch, before they can sustain themselves with the right revenue models. While over HK$600M have been raised for Cyberport start-ups in the past few years, it's not only financial assistance that's on offer." Stella points out. "We have gathered over 100 investors as CIN members, who share their knowledge, latest investment insights, and expertise with our members, too."
Cyberport Professional Services Network ("CPN")
CPN conducts service matchings according to the needs of community companies, offering advice and services on finance, corporate services & compliance, intellectual property, payroll, and legal services. It also conducts service clinics and business consultations, as well as workshops for community start-ups. The participating professional service providers will offer relevant services according to the needs of start-ups on equitable commercial terms, helping them grow and scale up.
Key Considerations for Business Start-ups
With various kinds of support offered by Cyberport, many start-ups have survived through different business challenges. Since 2005, Cyberport has cultivated about 900 companies under its incubation programme, with about 70% of them still active three years after graduation. "For those considering setting up a new business, it's vital to understand market dynamics and have some interesting or thought-provoking business ideas in mind that will propel you further. Then, identify gaps and formulate solutions that can help address the pain points," observes Stella. She adds that it is crucial to build a team that shares the same values but differs in terms of expertise. "Business will be difficult to succeed if the team only specializes in technology development. You require experts beyond technology who are good at business development, marketing, finance or operations." Business models and sustainability also matter, "People need to consider their revenue structure as well. So, I believe the three points I've just covered: being aware of your market, crafting solutions, and building a diverse team, are pivotal when starting a business."
The Companies of Tomorrow – Innovators and Disruptors
"The global shift towards digital is a megatrend that is unprecedented for technology start-ups right now. We see large corporations hiring innovation officers to develop solutions, and start-ups are there to help solve these pain points. In fact, many big corporations are making a smart move by actively acquiring start-up companies," Stella points out. "It's worth remembering that start-ups can be disruptors, but they also have the potential to be future leaders." Cyberport's drive to encourage innovation, underpinned by its strategic network platforms, would give Hong Kong's fledgling companies the best possible start in life.