Rice is a reserved commodity in Hong Kong protected by law to maintain a sufficient stock for local consumption for a reasonable period of time (at present 15 days). Yet, it is now also a fast-moving consumer good. The change took place when Golden Resources, a leading rice importer, wholesaler and distributor, rode on the rise of supermarkets and modernized rice selling.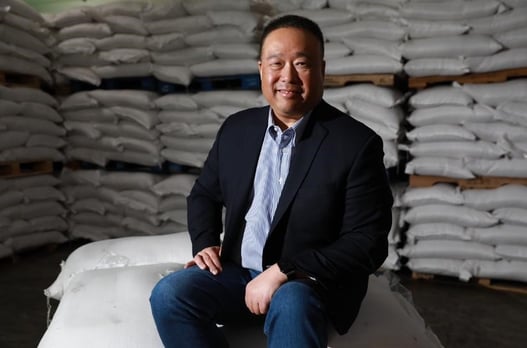 Anthony Lam, CEO and Vice Chairman of Golden Resources which was founded by his grandfather in 1946, explains, "in Hong Kong, only licensed importers can import rice and they must reserve a certain percentage (17% to date) of their imports in licensed warehouses." They can then apply to sell the rest of the imported rice to wholesalers.


Revolution of Rice Selling
In the old days, people bought rice from large, open sacks at rice or grocery stores. Sometimes the rice was in poor quality with weevils. Sometimes the rice was oiled to look shiny and fresh. Sometimes the rice was just wrapped in a piece of newspaper. The emergence of supermarkets presented a room for change and Golden Resources began to sell packaged rice.

Many years ago, Hong Kong used to have only single origin rice. The problem of single origin rice is that during the new crop seasons, the rice is too mushy; while as the rice aged, it will become dry and hard. Golden Resources was able to capture the unique position of Hong Kong, as we are able to import rice from all around the world, and began to create a consumer product (productize) from a commodity product. Golden Resources was the first to start blending rice from the Northern and Southern Hemisphere, and rice from different maturity months from different regions, to maintain a high quality standard and taste into our different packaged rice formulas.

To understand the need of rice blending, it is important to know about rice farming. It usually takes 120-140 days to grow and harvest high quality variety rice. Because the seasons in the northern hemisphere are the opposite of those in the southern hemisphere, farmers sow and harvest their rice at different times. By the time there is a new harvest in the northern hemisphere, rice from the last crop in the southern hemisphere has aged. The difference between newly harvested rice and aged rice lies in the water content – new rice is more hydrated and therefore requires less water to cook. Only by blending rice from multiple origins can a standard quality be maintained throughout the year.


Beyond a Rice Importer
Packaged rice has proven to be a great success. Golden Resources invested further to ensure good product quality. The company has air-conditioned the warehouses and set up a milling plant to re-mill all the rice imported. "Weevils lay eggs in the bran layers. If the rice is not sufficiently milled and is kept above 18 degrees Celsius, their eggs will hatch," Lam elaborates. Vacuum packing also helps keep air and moisture out to stop them from hatching.

In addition to vacuum packing, Golden Resources improved the packaging. For instance, it added a handle to the consumer packs for easy carrying, and has more recently adopted biodegradable plastic packaging in response to environmental concerns. The company is no longer just a rice importer, but boasts a complete processing line with its own logistics system and distribution network.

"Economic growth leads to market changes. As packaged rice has become a fast-moving consumer good, we must put ourselves in the consumers' shoes and act to meet their needs."


Meeting market needs
The teams at Golden Resources study the features of their rice and the ways of cooking rice, and diversify their products for different market segments. For example, the popular Golden Elephant brand is for local families in general; the Cherry Blossom Castle brand is particularly suitable for making sushi and congee; the Kangaroo low GI rice caters for diabetes patients. Now, 12 of their products are Hong Kong Q-Mark certified for their quality and environmental performance.

The wide range of products allows them to flex their muscles even when rice consumption in Hong Kong is going down. "A drop in demand does not mean a drop in business," Lam continues. "We are market-driven. When Japanese cuisine is popular, we import and sell more Japanese rice. When families are getting smaller and the younger generation rarely cook, we launched instant rice packs which only require re-heating, and people may then simply have, for example, canned Korean crab roe to go with it." His winning formula is to stay ahead of the market, make the best estimation and act accordingly.


The Road to Vietnam
He has further demonstrated this by diversifying the company's business – when Golden Resources first ventured into rice processing and trading in Vietnam, Lam stationed there for two years. He saw that the country was following China's footstep to open up its economy. There was a market potential for convenience stores, and now, after 15 years, the retail business, with approximately 400 Circle K stores all over Vietnam and 6,000 staff, contributes half the revenue of the company.

As a CEO, Lam believes in having a reasonable understanding of the business while hiring the right professionals for the jobs. "Let the professionals do what they are good at. Having said that, if they possess 100% knowledge of the operations, I have to know at least 60% of what's going on." When he first joined the family business, he started working not at the office but at the warehouse in Tsing Yi. "I learned the basics of the rice industry there," he recalls.

He did the same in Vietnam. He participated in all stages of business development for the convenience store business. "I know all the details, all the stores, product displays…everything." He insists that a CEO must have a solid knowledge of the business and never stop learning new things at work.


Hong Kong Quality
In addition to his role as a CEO for the family business, Lam is currently the Chairman of the Hong Kong Q-Mark Council under the Federation of Hong Kong Industries. While he is proud that Golden Resources is a "Hong Kong" brand with businesses overseas, he is keen to advocate not only for products made in Hong Kong, but also products made by Hong Kong – products that are researched, developed, designed and produced by Hong Kong-invested manufacturers with the intellectual and quality excellence originated from Hong Kong. "Q-Mark represents Hong Kong quality and it should not be limited to products that are made in Hong Kong. There are a lot of Hong Kong companies that owns production lines in foreign countries and they are of Hong Kong quality as well."

Quality, after all, is the cornerstone for success.