Let no one despise your youth. Jasper Yip, the youngest partner in Oliver Wyman's Asia operations, has recently been featured on Forbes' 2021 30 Under 30 China List.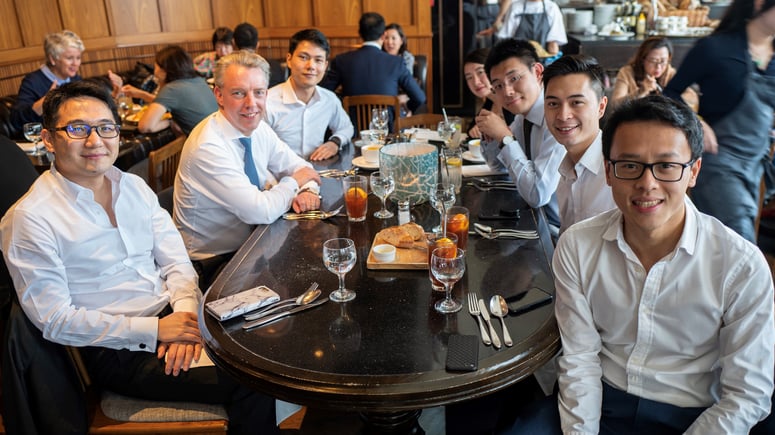 Jasper (second from the right) gathering with his project team back in 2019
Graduated from the Hong Kong University of Science and Technology, Yip took a different path from most of his peers who studied Global Business and Finance. "While my classmates wanted to work in investment banks, I joined a consultancy firm – Oliver Wyman – instead," he recalls.
But why?
A Different Path
By doing his own research and through job interviews, Yip learned that Oliver Wyman is a relatively young management consultancy firm when compared to other big guns in the industry, and its financial services team serves mainly investment banks. He figured that the consultancy firm would provide a lot more opportunities for him to get involved in high-level meetings and projects while having a close link with the banking industry. And it turned out that he began meeting and serving his friends' bosses at investment banks very soon and had a faster track to the management team.
He bet it right.
He bet it right again five years ago, when he decided to switch his professional focus from Southeast Asia to Greater China. "After three years of work, I started to realize that there is something interesting happening between China and the rest of the world. We are witnessing a developing market that is gaining force in the global market, but no one really knows what is going to happen." He was excited to dive deep into China and began to focus on topics related to capital markets, wealth and asset management, and fintech in the country. He has since supported various global financial institutions to formulate their China onshore strategies and operational plans, and co-authored multiple Oliver Wyman industry reports and whitepapers in the financial services industry.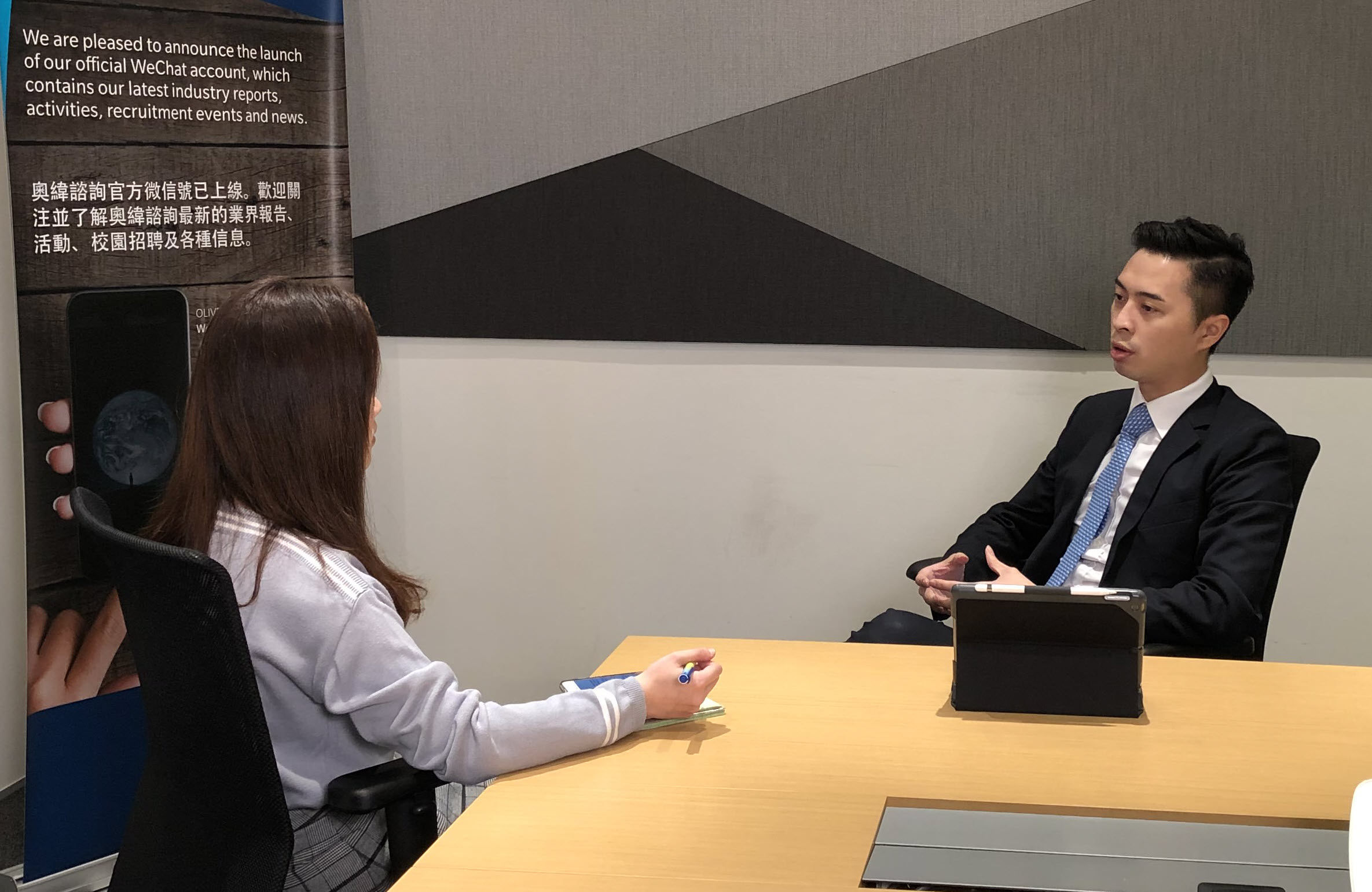 Jasper taking an interview with TVB
A Shift of Trend
Over the past five years, China has been opening up its financial onshore market and abolishing caps on foreign ownership. The regulator saw the need to move away from shadow banking credit towards better-priced capital. Yip sees this as the beginning of a long-term shift which presents new opportunities for financial experts.

"The local market is now ready to move away from merely looking at investment returns to a more sophisticated approach to investment," Yip says. "The loosening up of licensing requirements attracts global asset managers, private banks and securities businesses, which will help construct a more stable, institutional-driven capital market in China and contribute to investor education."

The Greater Bay Area is also expected to lead a plethora of innovative, cross-border asset management opportunities for global asset managers to bolster their presence in China.
A Reversed Direction
"In the past decade, we saw how foreign firms from all over the world were trying to tap into the China market." He is expecting the other way round in the next decade. The liberalization of the investment banking and money management industries in China will bring in foreign experience that helps Chinese corporations to participate further in global markets.

On the other hand, fintech in China has also experienced an explosive growth in the last decade. As the retail banking market was underdeveloped, relationship management was immature, and regulations were relatively loose, digital financial platforms in China have quickly gained investors' confidence and the fintech sector was characterized by a relatively short maturity curve. "In China, it is digitalization that shapes the banking experience of the general public," Yip observes. "Yet in the past, fintech innovations only aimed to catch the eyeballs of BATJM (Baidu, Alibaba, Tencent, Jingdong and Mi). Now with the tightening of regulations, fintech innovations will go back to what innovations should be."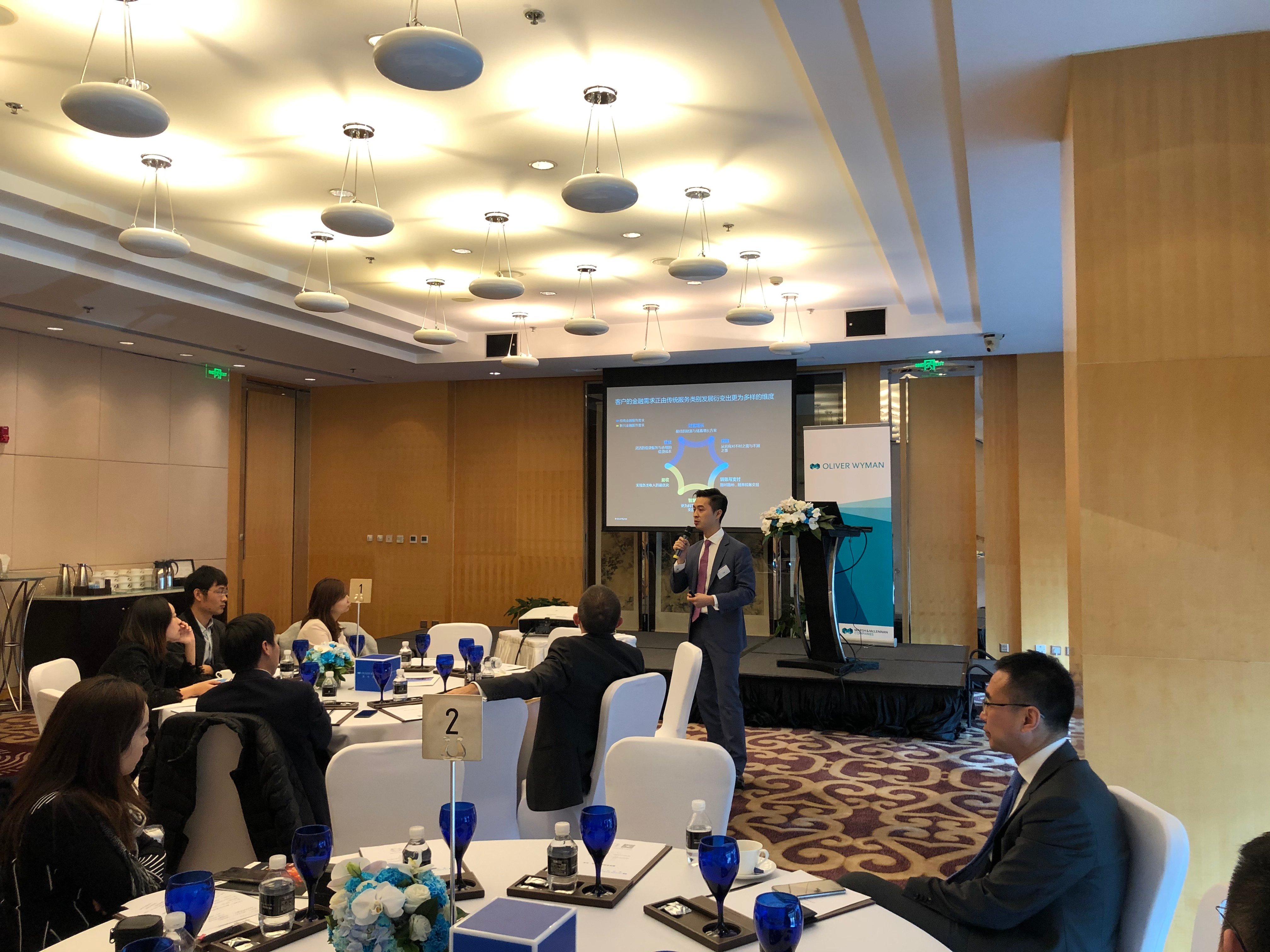 Jasper speaking at Oliver Wyman Beijing Executive Forum
A Change is Coming
Although Yip has no crystal ball and cannot tell if China will be the nation to beat in 10-year time. As a consultant, he recommends his global clients to diversify their businesses and markets, especially in Asia. "History tells us that around every 80 years there will be a major change in the world, from the Dutch maritime supremacy and British colonization, to the rise of the United States and collapse of the Soviet Union…" He thinks the world is undeniably moving to a more diverse approach.

"Asia, with a large China market, should definitely be a destination for diversification. People are getting wealthier and the markets are growing," he continues. "No one knows which country will stand out in 10 years and diversification is the best way to capture growth while managing risk."

Yip's career bet on focusing on China has paid off. He is now featured in the Finance & Venture Capital category on Forbes' 2021 30 Under 30 China List and is the only honoree selected from a consulting firm. "Invest in something that you think it will fruit in five years or longer," he advises the younger generation. "I invested in something that I believe in, and the good results just came naturally."