TIIH Online - The Solution to Participate Remotely at General Meeting
The Coronavirus outbreak (COVID-19) has created unprecedented uncertainty over the past few months.
In view of the current situation, we would recommend your company to take advantage of our Remote Participation and Voting facilities. Your shareholders can exercise their right to attend, participate and vote remotely through live streaming of meeting proceedings with audio visual. TIIH Online has been developed to allow online remote voting. Using designated/personalised credential, security holders can login via computer, tablet or smartphone to connect to the dedicated virtual platform to participate in the meeting. Please visit https://tiih.online/ for more details.
If you are interested to view the DEMO, please sign up the form.
External Link
Media Release: Bursa Malaysia asks shareholder to participate, vote remotely at AGM
---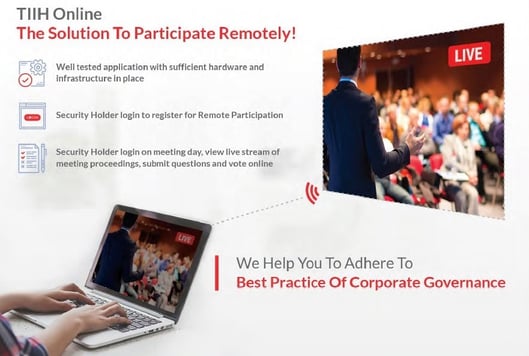 ---
What is TIIH Online
TIIH Online which became operational in 2017, is our proprietary application designed by our technical team who are knowledgeable and experienced in share registration, industry practices and regulators' requirement. Through research, planning and market feedback, our technical team had specially developed the application to meet corporations' investor service needs through digitization and also to support the government's vision envisaged in the Fourth Industrial Revolution.
It is essentially a one-stop digital platform for security holders to participate in corporate exercises online and submit all time critical public-listed company documents such as rights subscription forms, dividend reinvestment forms , notice of conversion of non-equity securities, proxy forms and remote participation forms. A number of our clients had already engaged our digital services for their security holders and the number of registered users had since far exceeded 10,000.
In terms of the security and functionality of TIIH Online, a reputable enterprise risk management firm had been engaged to review and test the application and to give assurance that the application has met all the standard operational requirements.