Read the latest insights from Tricor's executives.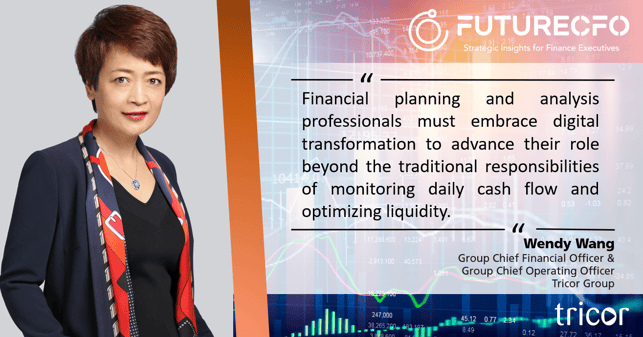 September 14, 2020 – FutureCFO Magazine
Tricor Group CFO and Group COO, Wendy Wang, shares her thoughts with FutureCFO Magazine on how businesses can survive the pandemic aftermath from an in-depth financial planning and analysis perspective.
Amidst current environment, the traditional way of disseminating financial information and explanation of variance analysis is no longer fully reliable and accurate. It fails to account for the unique risks caused by the global pandemic.
Above: Excerpt from the interview. Please refer to this link to view the article in full from FutureCFO Magazine.
(2020年9月14日)FutureCFO Magazine
卓佳集团财务及营运总裁王辉与《FutureCFO 》从深入的财务规划与分析角度分享企业如何应对新冠疫情过后带来的后果。
在当前环境下,传统的分发财务信息和解释方差分析的方法已不再完全可靠和准确,并且无法解决全球疫情引起的独特风险。
上图:采访摘录,请参考此链接查看《FutureCFO》的全文。