Read the latest insights from Tricor's executives.

(Jan, 2020) Hong Kong Business Annual 2020
Various analysts and professionals have stated mixed projections on what the region's economy will be like in 2020. Despite the economic headwinds in Hong Kong as outlined by the government, Hong Kong remains an important conduit for Mainland Chinese corporations to access internal capital markets and for international business expansion.
Lennard Yong, Group CEO of Tricor, explains Tricor's IPO track record from the mainland and what is expected in the year ahead.
Above: Excerpt from the interview.
(2020年1月)香港商务年报2020
许多分析师和专业人士对2020年的地区经济状况做出了不同的预测。尽管如政府描述的一样香港经济正遭遇逆风,香港仍然是中国大陆企业进入内部资本市场以及国际业务拓展的重要渠道。
卓佳集团行政总裁杨斌官先生阐述了卓佳在中国大陆的IPO业绩以及对未来一年的期望。

(Jan 15, 2020) Sing Tao Daily & Hong Kong Economic Times
Tricor Hong Kong participated at the "Investing in HKU Business School's Global Talents – Empower & Match" Job Fair organised by The Hong Kong University, Faculty of Business and Economics at the JW Marriott Hotel.

Our CEO of Tricor Hong Kong, Joe Wan, was invited by Sing Tao Daily and Hong Kong Economic Times, to shared with Millennial on the job interviews tips from a CEO & HR perspective. At Tricor, employees are our greatest asset, and we believe that with the join of the new generations, Tricor will continue to be the Employer of Choice!

"Students from Hong Kong are familiar with both Chinese and Western cultures, which is their biggest competitive advantage, helping them to stand out from the crowd."
Above: Excerpt from the interview. Please refer to this link to view the article in full from Sing Tao Daily and this link to review the article in full from HKET.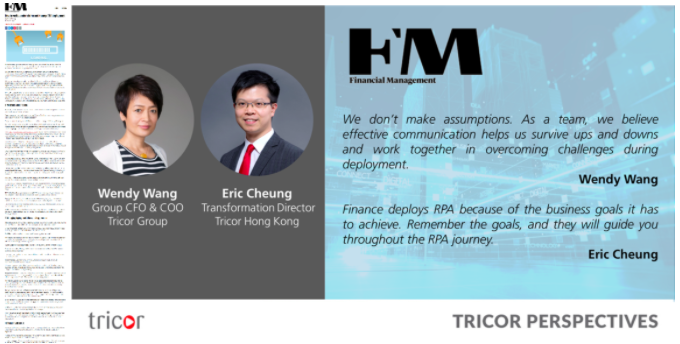 (9 Jan, 2019) FM Magazine
Group Chief Operating Officer & Group Chief Financial Officer, Wendy Wang and Hong Kong Transformation Director, Eric Cheung were interviewed by FM Magazine to share their views on how to verify vendor claims and manage RPA deployment. They provided advice on how companies can efficiently implement RPA. Wendy and Eric shared practical tips and detailed planning advice for the different stages of the RPA deployment, from vendor selection to implementation.
Above: Excerpt from the interview. Please refer to this link to view the article in full.
(2019年1月9日)FM Magazine
在FM Magazine的采访中,集团财务及营运总裁王辉女士和香港转型总监张大为先生,就如何验证供应商的索赔和管理实施机器人流程自动化分享了他们的观点。他们提供了如何让公司有效实施机器人流程自动化的建议,以及针对不同阶段(从供应商选择到实施)的实用技巧和详细的计划指导。

(Jan 9, 2020) Money FM 89.3
Group CFO & COO, Wendy Wang, shared her success story and analyzed the development of the Greater Bay Area (GBA). She expressed that the GBA has huge potential with outstanding GDP growth during a recent radio interview with Metro Finance for the GBA Outstanding Women Entrepreneur Awards 2019. As Asia's leading business expansion specialist, Tricor provides professional guidance and support for companies interested in expanding their businesses across the region.
Above: Excerpt from the interview. Please refer to this link to listen to the podcast.
(2020年1月9日)[Money FM 89.3]
集团财务及营运总裁王辉女士分享了她的成功故事,并分析了大湾区的未来发展。 在最近新城财经台关于2019年大湾区杰出女企业家奖的采访中,她表示大湾区的GDP增长迅速,蕴藏着巨大的发展潜力。作为亚洲领先的业务拓展专家,卓佳为有志于在大湾区扩展业务的公司提供专业指导及支持。